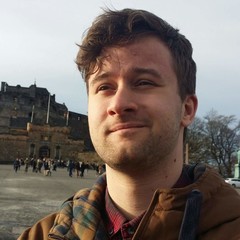 Joseph Stameus
3D Environment/Prop Artist
Stockholm, Sweden
Summary
I'm a 3D Environment Artist with experience in VFX, hardsurface modeling, organic sculpting and foliage. My first experience with 3D art began in the summer of 2014, and now, a couple of years later, I'm a student at Future Games in Stockholm looking to work with game development.
As part of my education, I have worked in three different game projects, using both Unreal Engine 4 and Unity, as well as trying out different roles including Environment Artist, VFX and also Character Art. Before Future Games I worked on some school projects involving animated short films in Blender, both alone and in teams of varying size.
I have tried a multitude of tasks and disciplines within 3D art over the years and I enjoy working with a broad skillset to create virtual worlds for players to explore.
Skills
3D Modeling
Digital Sculpting
Environment Modeling
Hard Surface Modeling
Prop Modeling
Texturing
VFX
Texture Baking
Software proficiency